IBM acquires Red Hat. Deutsche Bank cuts 18,000 jobs, and faces scandals on multiple fronts. Wayfair employees protest furnishing migrant camps. CultureX weighs in with cultural data from the Culture 500.
IBM Acquires Red Hat
IBM has paid $34 billion to acquire Red Hat, and will run the open-source software company as a separate unit. Based on over 13,000 Glassdoor reviews from IBM and 547 reviews from Red Hat, what can we learn about this acquisition?
There are signifcant cultural differences between the two companies. Red Hat is in the top decile of all Culture 500 companies in terms of recognizing and awarding employees' contributions. IBM is in the bottom quartile.

Red Hat is also significantly more agile than IBM.

Given these differences, it might make sense to run the two businesses as separate units. Red Hat employees, who typically write about their company with language like "this is a true meritocracy and if you work hard you can make a real and lasting impact" and "the company is fast paced and ever changing in a good way" might suffer a culture shock if they joined IBM.
At IBM, more typical reviews about performance and agility read "people will get away with doing the bare minimum; 90 percent of the work is done by 10 percent of the people" and "processes can bog down progress". As well as other business benefits, IBM would do well to leverage Red Hat's agile, high performance culture and share the smaller company's cultural practices more widely. It will be interesting to see how IBM's agility and performance culture changes in the years after this acquisition, the most expensive in IBM's history.
Deutsche Bank Cuts Jobs, Faces Scandals
Deutsche Bank recently announced it was laying off 18,000 employees. There were signs in CultureX data that all was not well in the bank, going back years. In particular, Deutsche Bank employees are unusually likely to talk about prioritization issues, and to talk about them unusually negatively. When employees recognize a company is struggling to prioritize, it can be a warning sign that restructuring is imminent.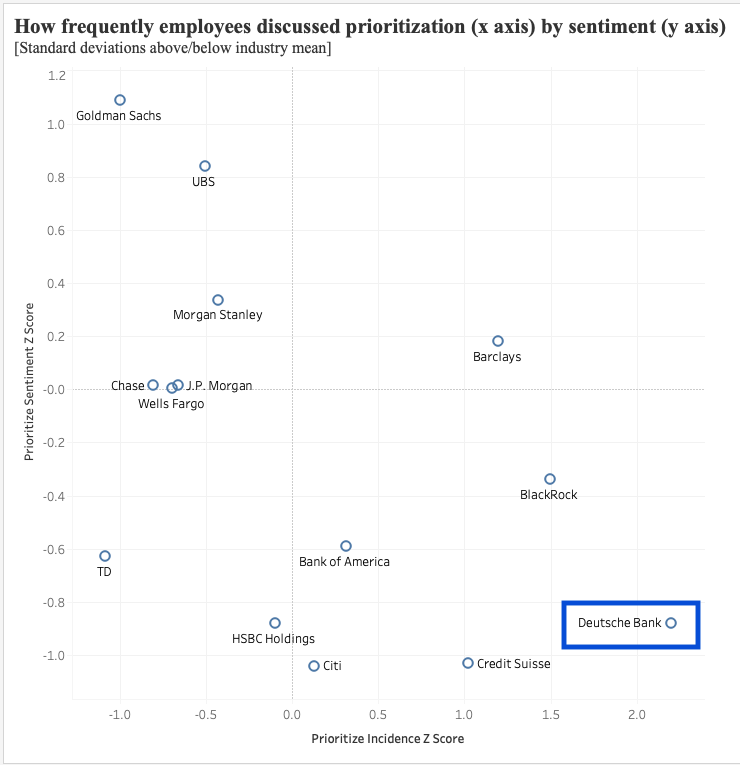 In a bad couple of weeks for the German bank, Deutsche Bank was also embroiled in a corruption scandal involving 1MBD, the Malaysian state fund, and came under increased scrutiny for its ties to disgraced financier Jeffrey Epstein.
Two weeks ago, if CultureX had to guess which big bank would next be embroiled in a major integrity scandal, Deutsche Bank would be one of the first names on our list. Of our sample of 15 large diversified financial services firms, Deutsche Bank ranks second-to-last for integrity. Only Wells Fargo, which was perpetrating one of the largest cases of consumer fraud in history while the data was being collected, scores lower.
Employee reviews like "upper management extremely late to handle prior ethical lapses", "ethics in the past have been below the bank's proclaimed standards", and "I witnessed many illegal transactions and cannot believe that regulators keep their eyes closed although they sit day and night next door in the Wall St office" are unusually common at Deutsche Bank. 85% of CEOs and CFOs think that a bad culture leads to unethical behavior. They're probably right.
Wayfair Employees Protest
Hundreds of Wayfair employees recently staged a walkout in Boston to protest their employer furnishing US migrant camps. CultureX's first thought was that Wayfair might have very high integrity norms, and that these norms were being violated by the migrant camp sales, enraging employees. Actually, Wayfair scores pretty low for integrity on the Culture 500.

In a further sign this might not be a case of virtue signaling, as some online critics have said, Wayfair is also not a particularly progressively diverse company. "Not the most diverse workplace but then again this is Boston" reads a typical review. Critics trying to paint Wayfair as a kambucha-sipping, Whole Foods-shopping, Vox-reading company should perhaps look elsewhere. According to many reviews, Wayfair culture is more "based on bro status", and employees do not talk about integrity or diversity very often.

What is interesting about Wayfair is how low they score on respect for their employees. An employee at Wayfair is less likely to say they feel respected at work than an employee at Wendy's.

"Non existent leadership that leads by fear and threats." "The general theory is because we are employees in Bangor, ME, we are half witted individuals incapable of being productive". "Employees are seen as cogs in the wheel". "Managers treat you as if you are uneducated children". "Wayfair treats its employees like the scum of the earth". Wayfair reviews like this are not the exception, but the norm.
CultureX does not know exactly why Wayfair employees staged their walkout, but we suspect that a culture of low respect contributed to it. When employees come to work every day and feel like they are being "treated like trash", it can provide kindling that a spark, like the company's decision to sell furniture to migrant camps, can ignite.